WALK WITH US!
Our five-day walking challenge is the perfect activity to run as part of out annual celebration of the walk to school in May, Walk to School Week.
A huge thank you every single school, pupil and family who joined Walk to School Week this year! Over 1,000 schools and nearly 300,000 pupils walked to school for a whole week - making it our biggest one yet!
DID YOU MISS OUR MAY 2023 EVENT?


YOU CAN STILL TAKE PART with our undated packs!

Order your resources today and join the challenge whenever suits your school
(our five-day challenge packs are undated)!
LOOKING FORWARD TO WALK TO SCHOOL WEEK 2024? 
REGISTER YOUR INTEREST!
SAVE THE DATE: 20-24 MAY 2024
Be the first one to know about the new theme and access our brand new classroom packs at early bird rate. 
THIS YEAR'S THEME AND ACTIVITY
Are your pupils ready to Walk with Wildlife? This year's challenge encourages children to travel actively to school every day of the week. Meeting various animals along the way, they'll learn about the important reasons to walk and the difference it can make for individuals, communities and the planet!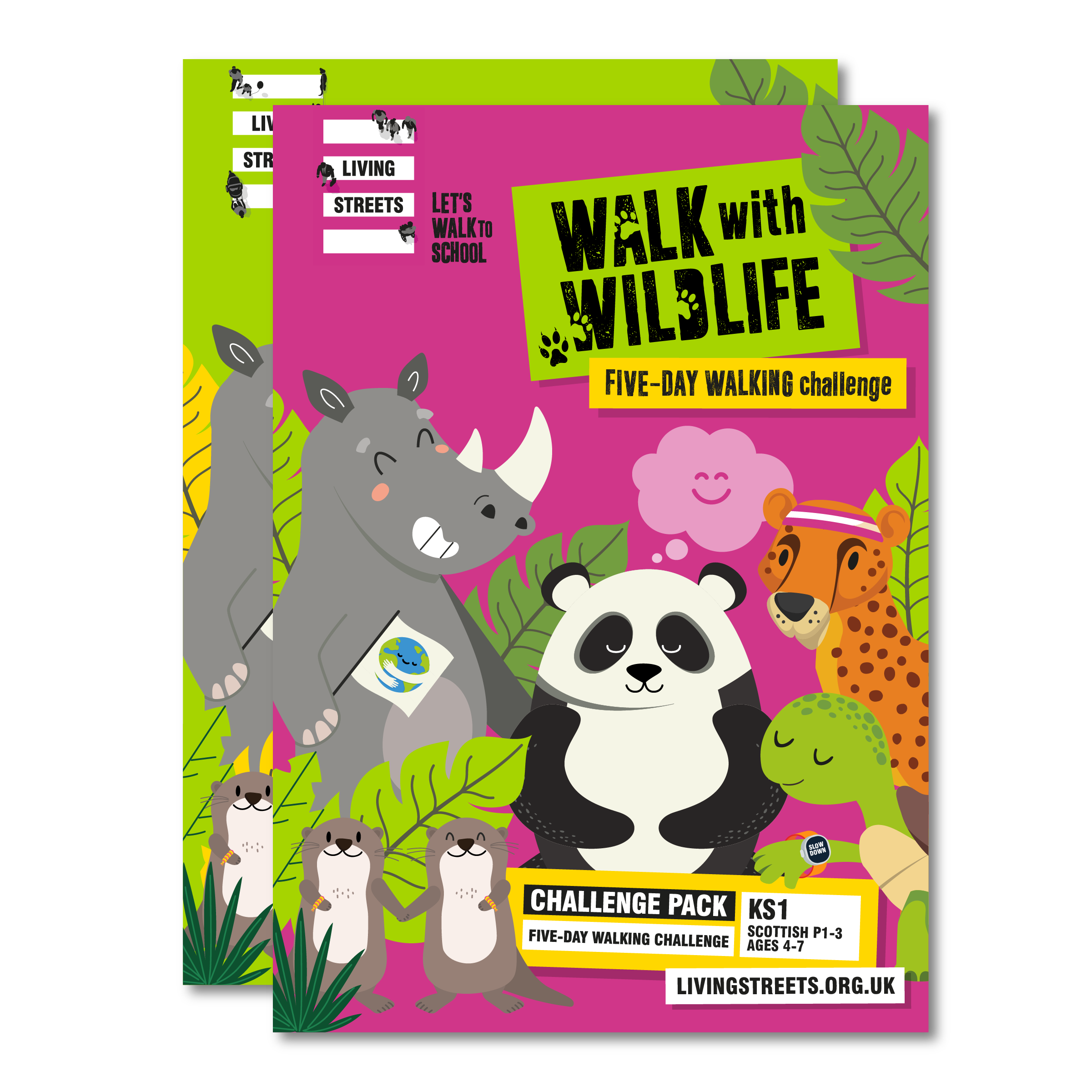 WELCOME TO
WALK WITH WILDLIFE
Pupils will be encouraged to walk, wheel, cycle and scoot to school every day of the week, earning stickers as they go along, with a special reward up for grabs at the end of the week!
GET READY TO WALK FOR:
INCLUSION

SUSTAINABILITY

HEALTH

MINDFULNESS

FRIENDSHIP
ARE YOU UP FOR THE CHALLENGE?
Your class will work together to make as many active journeys as possible. Pupils will be tracking their progress each day on the fun and interactive classroom wallchart.
Individual activity diaries, daily stickers and end of week pupil rewards will complement this activity, reinforcing the benefits and keeping children engaged.
Classroom packs contain resources for up to 30 pupils and are available in KS1/P1-3 and KS2/P4-7 variants, featuring differing, age-appropriate curriculum-aligned activities.
Inside each pack you'll find:
Teacher guidance
One double-sided classroom wallchart / pledge poster
Daily stickers for pupils and wallchart
30 pupil activity diaries
30 end of week pupil rewards
Did you know? You can use your PE and Sport Premium funding to cover the cost of your Walk to School Week packs.

EVERYONE CAN JOIN WALK TO SCHOOL WEEK
As a walking charity we want to remove barriers to active travel. We support pupils with special educational needs and disabilities to enjoy walking, including travel by wheelchair or mobility scooter. Encouraging parents to park even a little way from the school reduces congestion and air pollution at the school gates and improves road safety. Pupils can walk or wheel the last few minutes into school and still earn their reward. However, we understand that walking/wheeling to school, even part of the way, might not be an option for all. In these cases, we encourage pupils to become Walk to School Week ambassadors and assist the teacher in running the challenge to earn their own reward.
IS YOUR SCHOOL ALREADY DOING IN WOW?
On our shop page you will also find additional resources to make this Walk to School Week even more fun. From Walk to School banners, to limited edition badges to Strider mascot toys, make the most of your Walk to School Week! These resources are suitable for schools already taking part in WOW who want to offer an extra reward to those who walk to school every day of Walk to School Week.