---
GET STARTED AT YOUR SCHOOL
WHAT IS A WOW AMBASSADOR?
WOW Ambassador is an important role a pupil can take on to support the delivery of WOW in your school. Their key role is to champion all things WOW in their class and across the school, encouraging other pupils to walk or travel actively to school. They may also assist with recording journeys on the WOW Travel Tracker and take the responsibility of awarding WOW badges at the end of each month.
On this page you will find everything you'll need to run a successful WOW Ambassador scheme at your school.
To enable other pupils to identify WOW Ambassadors in your school and to celebrate and reward your nominated WOW Ambassadors, you can enquire about our special WOW Ambassador badges or purchase our Strider badges from our Living Streets shop.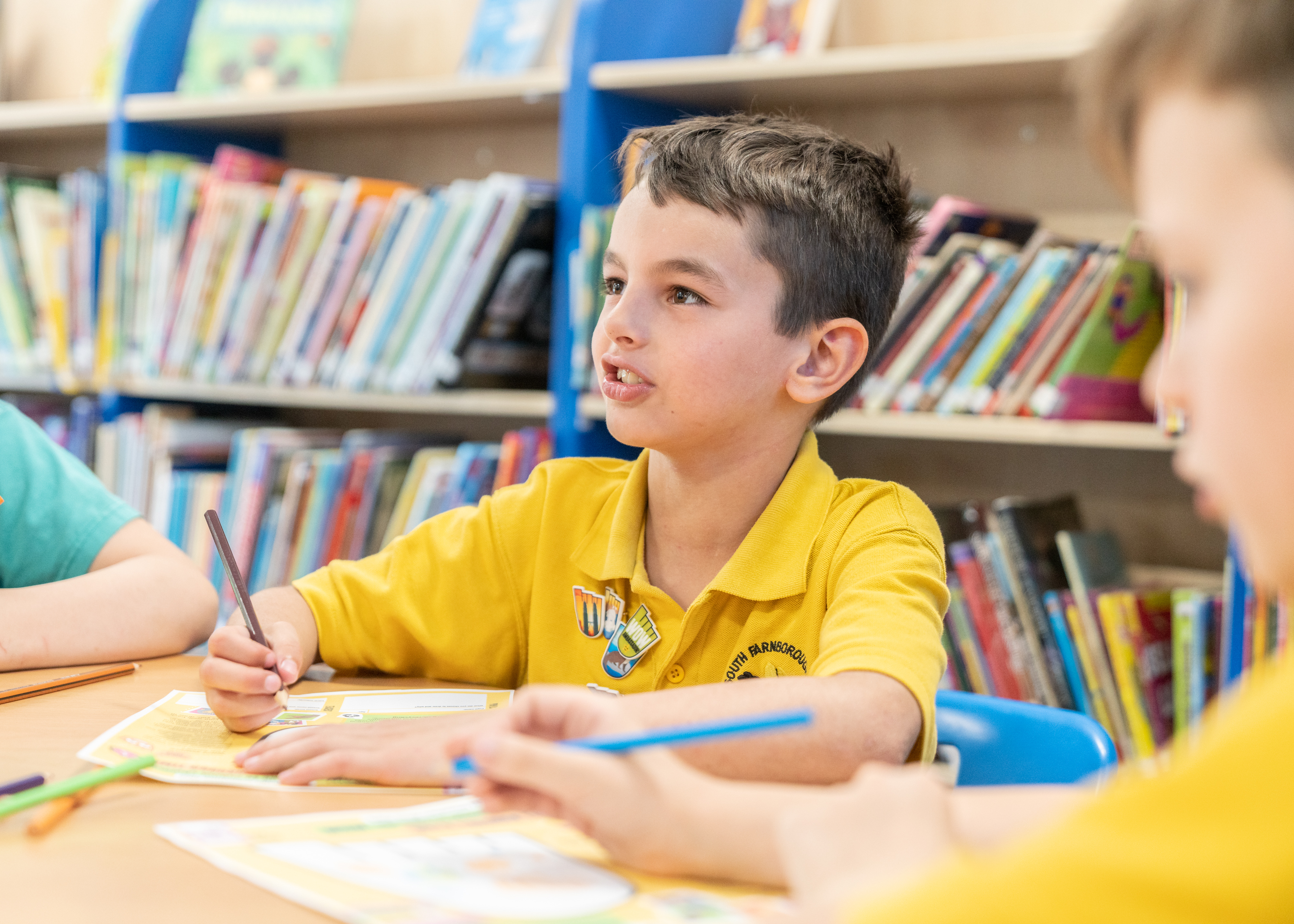 TEACHER'S GUIDE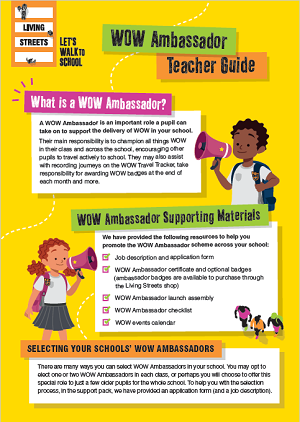 TRAINING CHECKLIST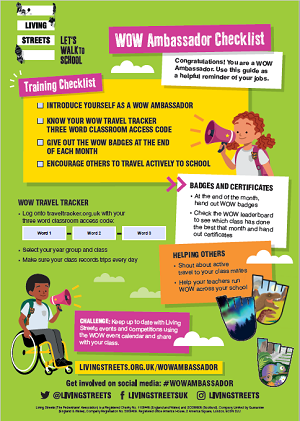 PUPIL'S JOB DESCRIPTION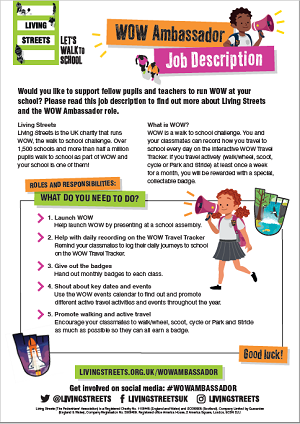 SELECTING YOUR WOW AMBASSADORS
Once you've familiarised yourself with the teacher's guide and handed out the 'job description' to your pupils, there are many ways you can select WOW Ambassadors in your school.
You may opt to elect one or two WOW Ambassadors in each class, or perhaps you will choose to offer this special role to just a few older pupils for the whole school.
To help you with the selection process here is an application form.
APPLICATION FORM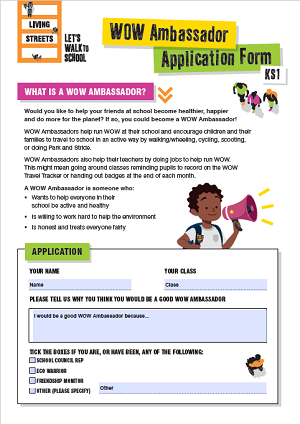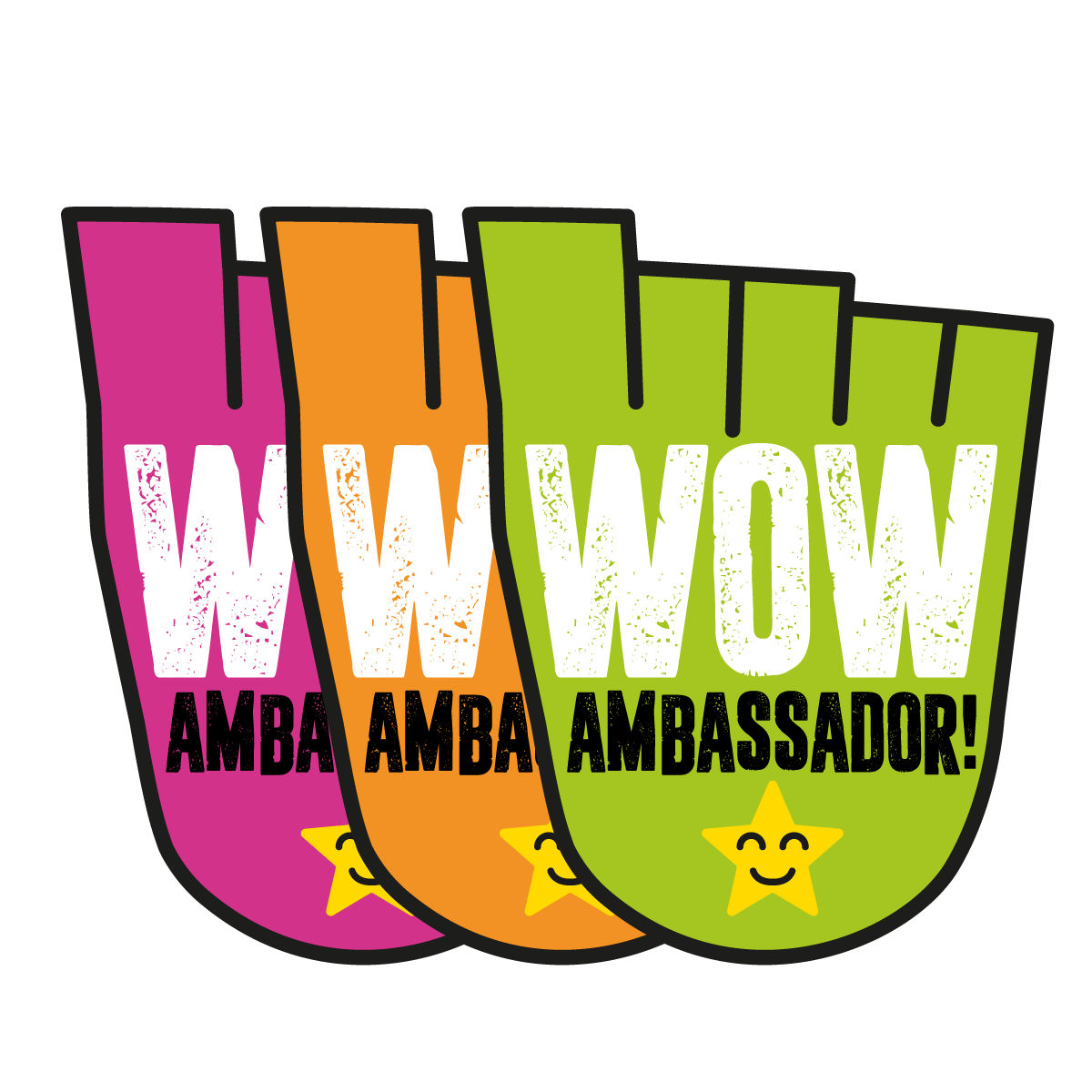 A CERTIFICATE TO CELEBRATE YOUR WOW AMBASSADORS
Hand out this special certificate during an assembly to celebrate your newly appointed WOW Ambassadors. We've made the PDF editable to you can fill it in before printing it.